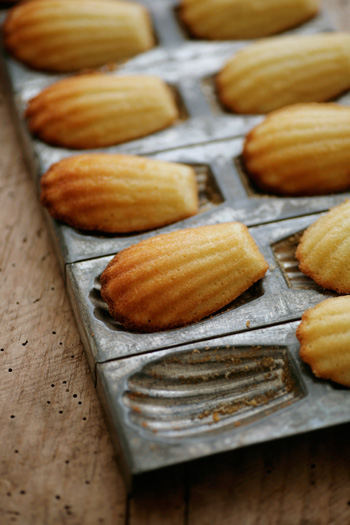 Stir eggs and sugar into top of double boiler, until creamy and lukewarm. Remove from heat and beat until cool, add flour gradually, mixing well. Fold in butter and vanilla.
Use special shell-shaped Madeline molds that have been buttered and floured (or small 1 1/2 inch muffin pans). Fill molds 2/3 full; fill muffin tins less than 1/2 full. Bake in a 425 degree oven for ten minutes or until lightly browned. Dust cooled tea cakes with powdered sugar. Yield: 5 dozen.
4 eggs
2 c. sugar
2 c. flour
1 1/2 c. clarified butter (or Promise Spread)
1 tbsp. vanilla
Confectioners' sugar
Best Madeline's I'll ever try in my hole life. Every body who interested it recipe of it more than welcome to try out it. Tell me how you like it?
Enjoy every body with a good spirit and good taste.